Emily and Jake's fostering story
Despite both working full-time, Emily and Jake have made fostering work and their friends and family couldn't have been more supportive. Learn more about Emily and Jake's fostering story. 
Tell us a little bit about yourselves... 
My name is Emily and my husband's name is Jake. We are both in our early 30s and live in Melbourne with our dog Biggie. 
I am a mortgage broker, and my husband is a primary school teacher. We've been fostering with Anchor since the beginning of 2020. We are accredited to provide all types of foster care, but we choose to mainly do respite and short-term fostering. 
Why did you decide to become foster carers? 
We had talked about fostering since we first became a couple but it was always about timing. We recently bought a house, and had spare bedrooms and thought let's do it. We both knew a number of foster carers growing up and thought it was a really cool thing to do.  
It is the greatest privilege we've ever had to foster and spend time with these kids during what is not a great time in their life. People say the kids in our care are lucky to have us, but really we are so lucky to have them and our lives are so much better because they are in it. It's been the best thing we've ever done. 
What has been your fostering experience?
Our first placement was with a young girl who stayed with us for seven months with whom we built a great relationship. We now have her stay with us for respite semi-regularly and in total, we currently foster about three sets of kids who stay with us for respite. It's great to be able to provide them that consistency and have this little community.  
Respite is important for full-time foster carers to give them a break and a reset on the weekends. It's been great to have relationships with their full-time carers because they can provide feedback about how they are going and let us know what their routines are. 
Being a respite carer is being part of a team. For the girl in our care, she calls everyone involved her 'team' and she can identify all the people who are there to champion her along the way. She understands she has a village of people surrounding her. 
What advice would you give to people thinking about fostering? 
If you have thought about fostering, do it! Go ahead with the process and become accredited because you don't have to say yes to a placement right away. Fostering always works out best around your life, and you can always say no to a placement if it is not a suitable time for you.
Don't be afraid to ask for support when you need it. Reach out to current foster carers and if you don't already know one, reach out to your agency to get connected with another foster carer. Even if you are just doing respite, for one child once a month then that is still a massive difference.  
What's been a moment that you'll never forget/cherish? 
It is the little moments. With the young girl who we first had in our care, she was about a few weeks into the placement and through her learning difficulties, she was struggling to pick up reading. But after a couple of months, she came home with her 'my first 100 words' certificate. The stability in the care we provided significantly helped with her learning as she was able to just focus on learning and reading. It was a small thing but made a huge difference. That certificate is still on our fridge and probably will be for a long time. 
What support have you received from your family and friends? 
Our family live interstate, but we have a lot of close friends who we consider family and who have been a great support. Our friends include the children in our care in Christmas and birthday parties. Our parents always send over parcels and gifts and love to video call with them.  
Our friend became a respite carer, just so she could support us. That has been the biggest support, to have a friend become a carer for us. The inclusiveness and support from our friends and family has been amazing.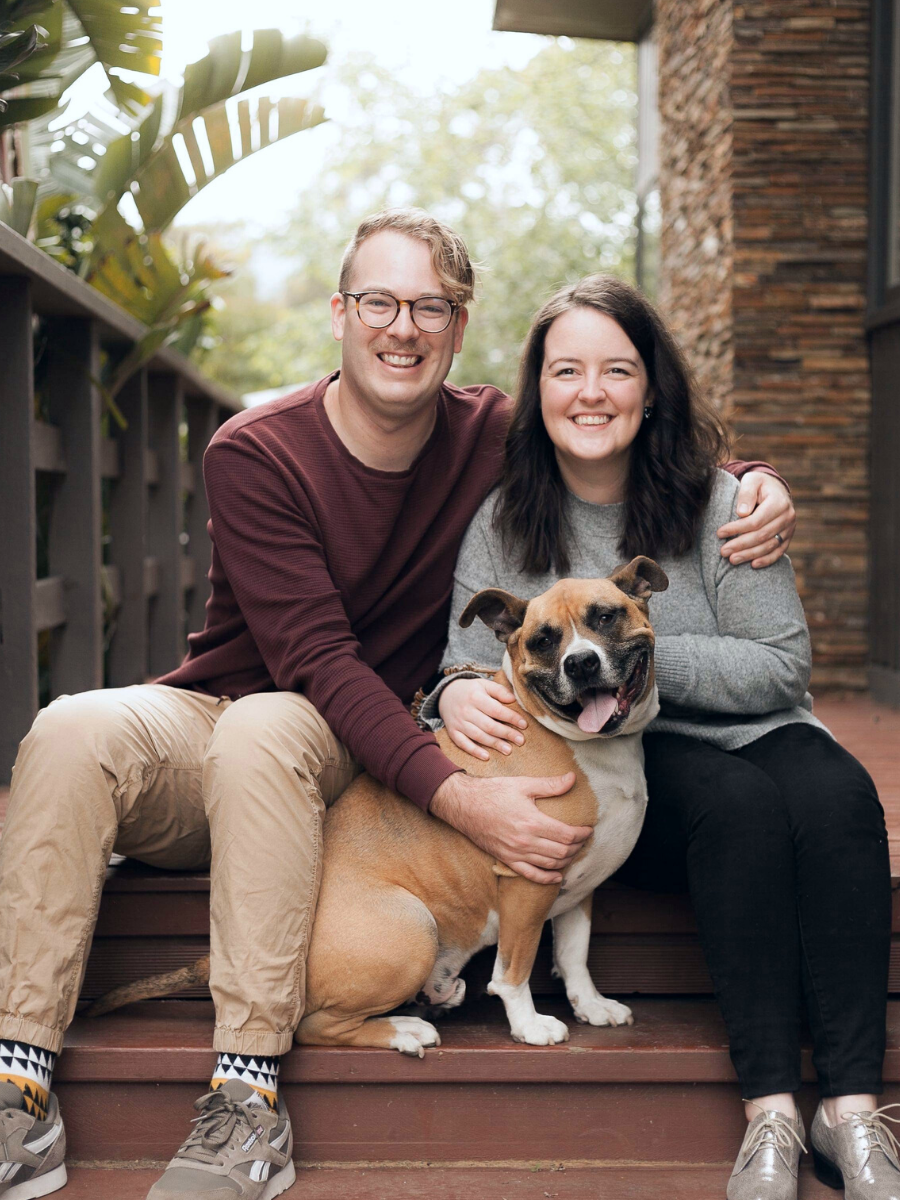 Emily and Jake with their dog Biggie.