Foster carer earns Victoria's 2022 Father of the Year Award
Foster carers play an important role in the Victorian community by creating safe and supportive homes for children while they cannot live with their family. 46-year-old Narre Warren father Michael te Wierik and his wife Fiona have played that role in the lives of more than 70 children over the past 15 years.
In recognition for his profound and positive impact on the lives of children in foster care, Michael was named the 2022 Victorian Father of the Year by YMCA Victoria during a ceremony held at the Melbourne Town Hall on 2 September.
Michael and Fiona's journey to becoming foster carers began when they sponsored a World Vision child. Whilst rewarding, they felt they wanted to do something local, more connected to the world they lived in, and investigated becoming foster carers.
This led the family to welcome children into their lives and open up more opportunities for children to thrive. Michael always has a positive outlook "It gives me the energy to show our kids the love and care they deserve". 
Whilst fostering can be challenging, it is incredibly rewarding. "There's lots of stuff that is rewarding about it, seeing young men grow and start families of their own to young kids gaining confidence to feel socially accepted. We treat them all the same and love them with our whole heart". 
Unfortunately, with an increase in the average number of children requiring a safe and stable home every year, the need for foster carers remains. Father figures like Michael are changing the lives of Victoria's children, who are facing a challenging period in their life. A great carer can make all the difference in supporting a child to eventually reunite with their family when and if it is safe to do so. 
Providing that stable home can make all the difference to a young child. "These children now know how to do simple things, from giving a hug to holding down a job or being kind," Fiona te Wierik said. Seeing Michael's positive impact on the lives of some of their ex-foster children is inspiring. "Some have now finished apprenticeships, brought their dream car or are studying to be a nurse. One of the older kids once told us that they could still find happiness in life regardless of the adversity they'd experienced and the pain they felt." 
Michael succeeds by making himself easy to communicate with. He has a self-described 'mind of a 16-year-old' and always maintains a positive outlook on life. Staying up to date on popular culture and exploring similar interests to his children has allowed Michael to connect on their level. He is also an amazing father to their biological 10-year-old son, Lochie who has autism. When Lochie came into their lives, Michael and Fiona adjusted how they would approach fostering, so Lachie could always be the older brother. 
Being a foster carer is an act of volunteering, and adjusting when a child leaves their care can be challenging, however they know it's always for the best "When one child leaves, it means another child needs us more". 
It's an attitude that reflects why Michael is genuinely deserving of the 2022 Victorian Father of the Year award presented by YMCA Victoria.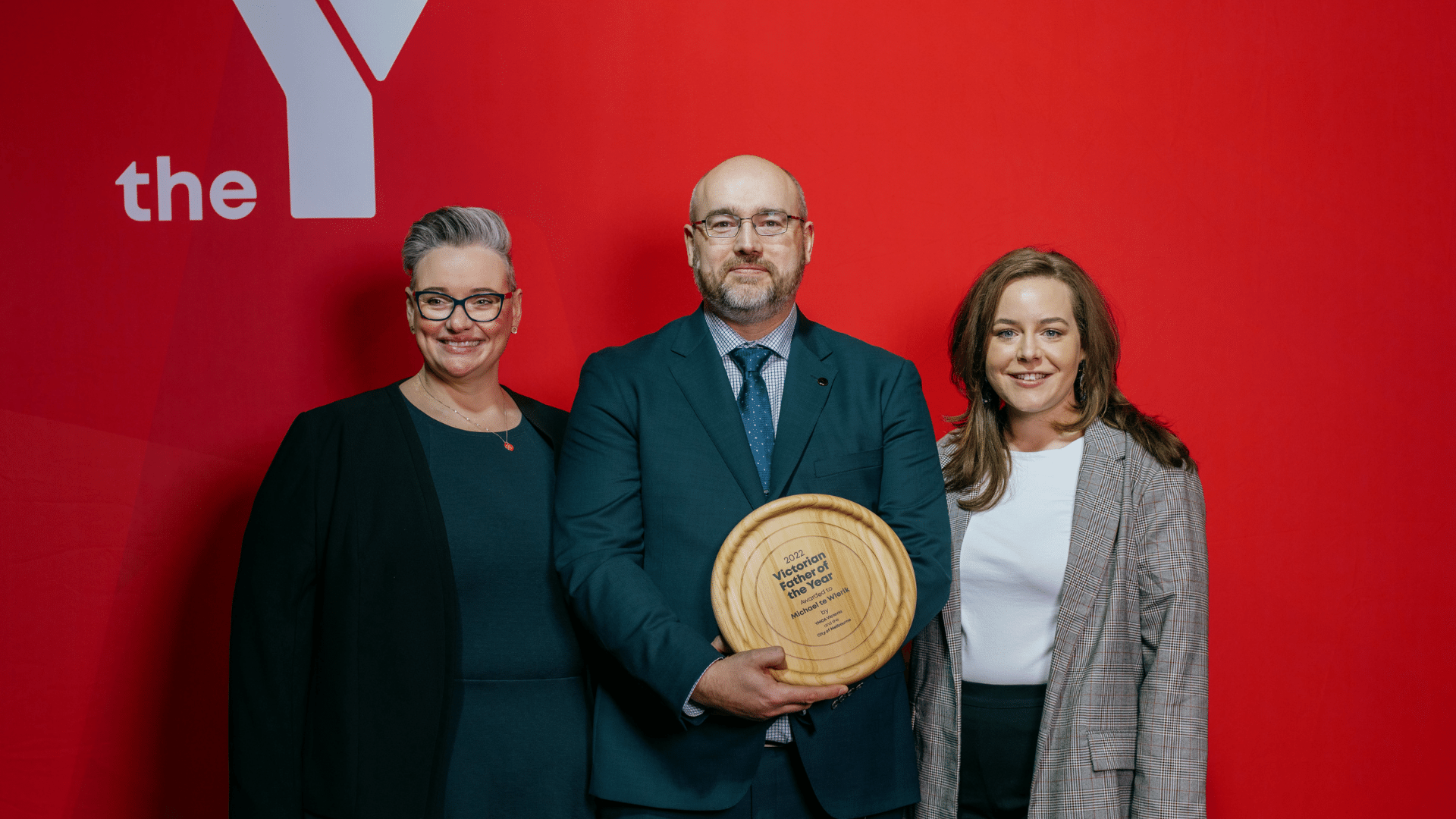 L-R: Fiona and Michael te Wierik alongside Jasmine Isaacs, Fostering Connections's Foster Care Connection Specialist
About the Victorian Father of the Year award

 
YMCA Victoria (The Y) conducted a state-wide search to find Victoria's most deserving dad or father figure. 
Since 1956, the award has recognised inspiring father figures who have made a profound and positive impact on the lives of young people.
When the Y became involved in 2006, the award focused on celebrating everyday father figures whose extraordinary efforts often go unnoticed.  
DNA alone doesn't make a dad. The Y aims to recognise the amazing work that both traditional and non-traditional fathers do to support young people.   
Learn more about the award: https://vicfather.ymca.org.au/  
Learn more about the Y: http://victoria.ymca.org.au/
---
Interested in becoming a foster carer?
To get started, give us a call on 1800 013 088 or enquire online.