Leonie Patterson, foster carer of nearly 40 years, wins the 2023 Victorian Protecting Children Carer Award
The Victorian Protecting Children Awards were awarded at a ceremony on Tuesday 5th of September recognising the contribution of organisations, workers and carers to keeping children and young people in Victoria safe.
There were 11 Victorian Protecting Children Awards categories open to nominations for those working across the child and family services sector, child protection, government and academic organisations, and foster, kinship and permanent carers, volunteers, and community members.
OzChild foster carer Leonie Patterson took out the Carer Award for her contribution to fostering children for almost 40 years. Leonie was accredited as a foster carer in 1985 and has provided care to many children in that time.
Leonie is actively involved in the lives of these children, as well as their biological families. Leonie takes the children to contact visits, educational and medical appointments, cultural activities, and advocates for their needs at care team meetings. Leonie's home has even been modified to make it accessible for children with disability.
Ms Patterson said she was amazed to be awarded Carer Award for her contribution.
"I won this award just for being a nanna, I can't understand, that's all I am!" she said.
"The children are our entire future. We need to be able to look after those children and nurture them so they can be the best they can be."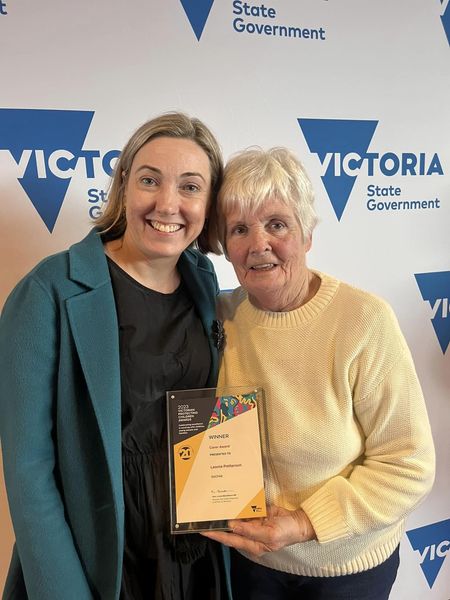 On an average night there are 1,500 children in foster care in Victoria, and OzChild chief executive Dr Lisa Griffiths said there's a particular need for more carers in Melbourne.
"We are very lucky to have many wonderful carers like Leonie who has provided a loving, stable family environment for hundreds of children in the western suburbs during her 40 years as a carer," she said.
"But, the need for foster carers is ever present. I encourage anyone who has the capacity to care to take the first step today, we'd love to see a new generation of carers rise to the challenge."
Interested in becoming a foster carer?
Fostering Connections welcomes foster carers from all backgrounds and walks of life. If you can create a safe and supportive home for a child to thrive, give us a call on 1800 013 088 or enquire online.